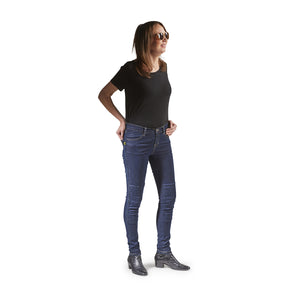 SUPERLEGGERA
Sale price Price $339.00 Regular price
The freedom of riding in jeans has been rewritten with the launch of Superleggera. Light was the focus. And light is its triumph. Your Levis weigh 500grams or 18 oz. Now your riding jeans can too. And we didn't just stop at weight. The material in the Superleggera is light as well with elastane for comfort and stretch. Your needs are met especially for a summer ride.
Ultra-soft, highly comfortable and extremely lightweight jeans. Made possible by Draggin's proprietary Draggin Roomoto lining. 30% lighter with double the strength. Roomoto offers more than 7+ seconds of abrasion resistance while dropping its weight. Flexible, breathable and lightweight, Roomoto MR7+ gives you the performance you need when it matters. The rest of the time your Draggin's keep you cool and stylish.

Jeans that weigh the same as my non-riding jeans. Well that is the first. Light, breathable and perfect for the conditions of the Australian summer or summer riding anywhere in the world.
The Superleggera. A new standard. And go on…we dare you to weigh them before you ride.