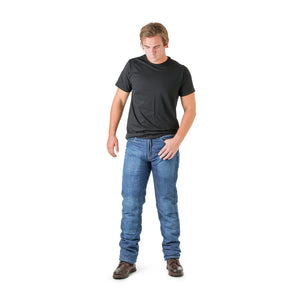 HOLESHOT FULLY LINED AAA
Sale price Price $460.00 Regular price
Protection that's as good as race leather, Holeshot leaves all others on the startline. Lab tested and road proven to provide World-leading safety - the only jeans on the market with Full CE Approval at Level 2 certification.
World Leading Motorcycle Jean
Race-level Protection With 7.45 Seconds Road Abrasion
CE Approved AAA Performance Max
World's Best Motorcycle Jeans
Hip and Knee Armour Included
Mesh Sports Comfort Liner
Fully Lined
Details:
Roomoto MR7+ protective lining 
Min. 7.45 seconds or 75 metres slide time
30% Lighter
Traditional 5 pocket design
Leather belt patch with Draggin logo
Brushed metal matt finish button 
No rivets so you don't scratch your bike
Side and rear seam construction triple stitched
Genuine locking front zipper without nickel content
Performance Mesh Liner to prevent heat transfer from road friction
CE Approved Knee and Hip armour included

About Roomoto MR7+:

Roomoto MR7+ is a thinner, lighter fabric with more abrasion resistance with the longest slide time. Roomoto® MR7+ changes the paradigm by increasing safety, almost doubling the abrasion resistance from 4.4 seconds to more than 7.46 seconds. This is higher than the slide time for CE level 2 safety rating. At the same time Roomoto MR7+ has dropped in weight, it is now 30% lighter. Making Draggin® the lightest protective riding jeans. Being exceptionally light weight makes for ultra-breathability and comfort.Draggin are the perfect motorcycle jeans for all riding conditions. With Draggin you're ready to ride!